Composites Busch SA is a Swiss manufacturer of medical devices in composite materials and by additive manufacturing.
For 35 years, we have been working with our customers to design, develop and manufacture their orthopaedic devices, external fixators, orthoses, surgical instruments, operating table components, imaging equipment, dental instruments and other devices.
From design to serial production, Composites Busch SA is your close partner with a quality management system certified according to ISO13485 specification and the FDA (Food and Drug Administration) and MDR (Medical Device Regulation) requirements:
Active listening, understanding and co-engineering with our customers
Product and process development
Validation and qualification
Serial production, traceability and quality assurance
Composite materials offer a wide range of possibilities thanks to their many advantages:
Lightweight with excellent mechanical properties
Biocompatibility
Long-term dimensional stability
Resistance to multiple sterilization cycles without performance degradation
X-ray transparency and MRI compatibility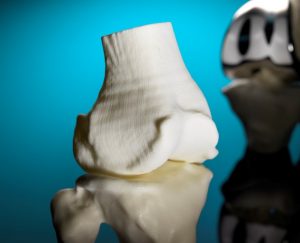 Additive manufacturing by powder sintering (SLS) further expands the possibilities in the medical sector.
Thanks to our experience in the medical field, we can produce complex-shaped and highly precise parts: guiding instruments, surgical devices, implantable components, anatomical models…
We work with polyamide (PA12), a biocompatible material with excellent mechanical properties and high dimensional stability.